We are always looking for ways for you to enjoy a delicious Burger. For this reason, we want you to get to know Chef's suppliers and how we develop our artisan hamburgers. Thus, you, your family and your friends will taste the glory of our Burgers and they will support the best local products, while breaking the myth of junk food.
Discover the most relevant information about our production together with Cristian Olaya Torres, head of production at Chef. He is a production engineer, agricultural technologist and specialist in the Kaizen methodology with 18 years of experience in the food sector.
Who are your suppliers and what determined you to partner with them?
98% of our suppliers are from the local industry and many of them are small and medium-sized companies. One of the items that we have to choose from is the quality of the product, above the price, starting with the main ingredients such as meat, bread and potatoes.
The bread is made by local companies, both in the city of Medellín and in Bogotá, Cali and Barranquilla. They prepare the product based on sourdough, which allows it to have as few preservatives as possible and its leavening process is more a matter of time than of added improvers.
The meats are also made by this type of company with which we have developed a personal formula, the exclusive Chef formula. They are companies that guarantee that the meat is obtained from slaughter plants that are 100% certified by Invima. This is to certify that the animals do not have harsh treatment or involve machinery at the time of processing the meat, in addition to stress-free livestock.
About the potatoes, McCain is our provider. They guarantee that the product is from the Boyacá and Cundinamarca area and comes from local crops with the best quality.
As for our sauces, they are 100% handmade, we make them with formulas developed by ourselves. That makes them have a unique flavor, a flavor that only we have; sauces that are made without preservatives and any type of coloring. We dispatch these every two days to the points of sale to preserve and guarantee their freshness.
The vegetables we use (tomatoes, lettuce, pineapple, among others) are provided to us by a company called Guapante, which is located in the Marinilla area. This company has grown with us and has made advances in machinery for processes such as pineapple peeling, which contributes to delivering a fresh, quality product.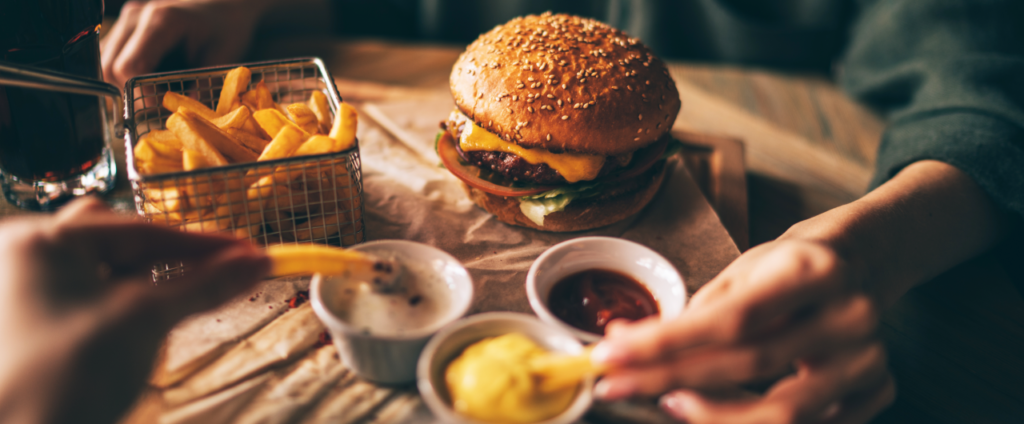 What does Chef's production chain consist of?
First, the development of the sauces and recipes is done by one of the founding partners of Chef and is approved by the others. It is guaranteed to be the flavor we want both for current Burgers and when the season ones come out.
After we have the development and flavor we want, we start looking for suppliers.
What are the parameters they have for this search?
We have 3 parameters:
1. Product quality
It is essential and we do not negotiate quality.
2. Volume required
The supplier must have the volume of products that we need to make the assemblies of our production method.
3. Quality requirements
It must have all the requirements of the Research and Development Department; that provide products without preservatives, very natural, and that have the legislation of Invima up to date.
Who is in charge of production assemblies?
We have our own production center. I lead it with the collaboration of our workforce, which is made up of fathers and mothers who are heads of households and some young people who are in the learning process.
That mixture of two different social spheres in the process has been very cool.
Why did you opt for a sustainable production chain?
One of Chef's main visions as a company is to demonstrate that eating a hamburger does not have to be synonymous with junk, artificial or harmful food. On the contrary, we want you to know that it is a handmade meal, balanced and with the right calories.
In addition, there is a social and entrepreneurial sense. Chef began with his first point in El Poblado and there are already close to 30 points nationwide, so we want this growth to also occur in terms of food and the thought that the hamburger is also a portion of healthy food.
How do you select the suppliers for the ingredients of your seasonal Burgers?
There are developments that have to be done with alternate providers. For example, since it is a seasonal hamburger and according to the social sense it leads to, for the Fungi Burger we did look for a new supplier, since the current ones did not have the raw material that we needed in this case.
Likewise, we look for the supplier to comply with the requirements that I mentioned before and we do try that everything is local development.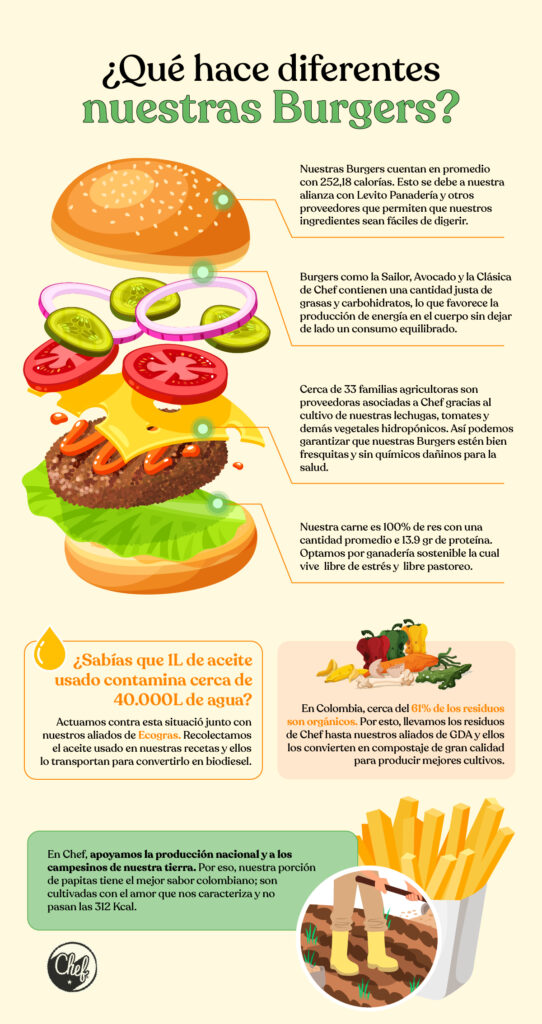 What are the three characteristics that best describe Chef providers?
1. Be just as cool as Chef
We have suppliers that believe in the brand, that believe in quality, that believe in the culture of the company.
2. Availability 24/7
They are suppliers that meet our needs, that go along with our venture and that are active 24/7, 365 days a year.
3. Not afraid of challenges
That they be suppliers that support the national, that promote the development of the products and that are willing to grow with us.
These are other of our initiatives to continue taking care of the environment with the friendly hands of our suppliers and allies.
Also know how we make a social impact with our Burger Trip.
Will you measure up to support these causes while enjoying a Burger?
Made with love,
Chef Burger